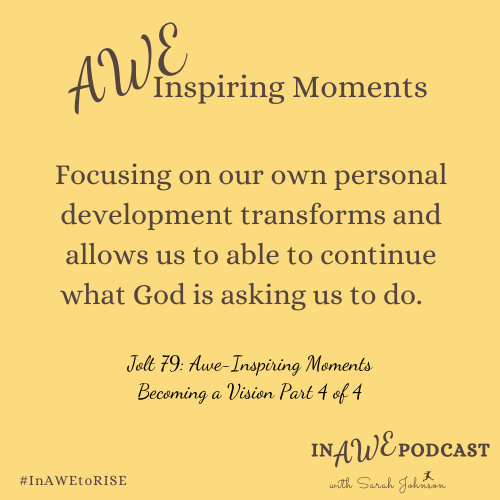 Sarah shares how the #oneword focus can lead to priorities and the powerful example she has experienced in being able to focus on her personal quadrant to work toward her own vision. Through her coach, Diana Schaapveld and the FasterWay to Fat Loss program, Sarah has been able to conquer her sugar addiction, release her running streak, and focus on strength–all areas of focus in her personal quadrant from her #oneword goal areas. Her story shows how powerful God's timing can be and how sometimes our missions can align too.

Check out Diana Schaapveld's New Client Program which is open now and closes on June 7, 2021! https://bit.ly/FasterWaySarahJ

Link to purchase a My Next 90 Day Planner: https://bit.ly/SavorPlannerSJohnson 

Sarah Johnson: Sarah's Website
Sarah on Twitter
Sarah on IG
Sarah on LinkdIN
Facebook: https://www.facebook.com/sarahsajohnson
In AWE Podcast: www.inawetorise.com
Subscribe: https://podcasts.apple.com/us/podcast/in-awe-podcast/id1446046418Lead with FAITH Balance Like a Pirate

This post contains affiliate links, which support the podcast at no cost to you.

Need a high-energy, authentic presenter for your organization? Contact Sarah Johnson for presentations on Going Beyond Balance, Leadership Foundations, Affirming Purpose, and many more.

Review the Podcast
The ranking of this show is 100% tied to subscriptions and reviews. You can help amplify more women and reach more who need their messages by subscribing to the show and leaving an honest rating and review on your favorite podcast platform.